Latest News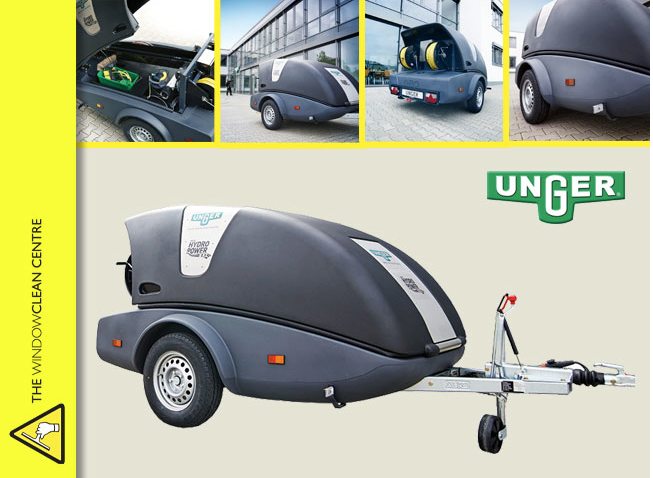 The Windowclean Centre are delighted to have taken delivery of the first Unger nLite HydroPower XXL RO Trailer into the UK.
Details
Fully Integrated Trailer System with RO Filter + 750L water tank. Total flexibility for producing and transporting 100% pure water for water fed pole cleaning! Fitted out with hi spec components, offering BIG capacity and performance, it's the ONLY real alternative to commercial van mounted systems.
Pure Water tank capacity: 750L.
1 or 2 man operation via 2x hose reels and 2x 12V / 150 psi pumps.
Each high quality hose reel is fitted with 100m hose for optimal reach.
Pure water output – up to 250L per hour per person.
Digital controller monitors water flow, pressure and battery power.
Control water flow Rinse / Wash modes manually or by wireless remote control.
3 stage water purification production with dedicated 12V / 150 psi pump. (Sediment / Carbon Pre-filter, RO Membrane and nLite HydroPower™ DI Filter Polisher).
Integrated TDS meters monitor RO and final polish results.
High capacity 12 Volt Gel battery offers 'all day' operation before requiring recharge.
Maintenance free 210 amp hour Gel battery with mains charger supplied.
Integrated storage compartment fits up to 6 water fed poles up to 1.91m long, with side storage areas for brushes, safety signs and other accessories.
Suitable for vehicles with towing capacity of 1,350kg.
DOT road specification, single axle, integrated lights and indicators with brake assist.
Supplied with european standard coupling, jockey wheel and manual parking brake. Conforms to EU regulations.
The multi-chamber tank design with low centre of gravity is designed to maximise stability during transportation.
Includes Auto Shut Off features, activated during water production mode when the tank becomes full and during use when the TDS of the outgoing water measures 5ppm (can be changed to lower or higher number).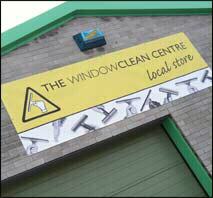 For further details contact:-Darrell Chalkley at
The Windowclean Centre
Tel:  0800 413512/01473 215295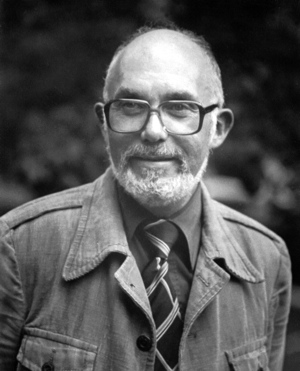 Henry Unger, founder of the global company that has been producing innovative and trusted professional cleaning tools for over 50 years, has received the ultimate accolade – a posthumous Lifetime Achievement Award from the International Window Cleaning Association (IWCA).
The story began back in 1964 when a young window cleaner decided to take a chance.  It was in that year that Henry Unger took the latest window cleaning innovations from the United States and introduced them to German window cleaners.
His discerning eye for quality products, tireless pursuit of new and better ways to clean, and his practical experience of knowing the issues that window cleaners faced, proved to be a recipe for success. The company started from humble beginnings, the attic of Henry's wife's grandmother in Hamburg, but soon grew to become the global concern it is today. Unger now has business partners in 80 countries across the world.
Passionate about improving the lives of window cleaners, he strived to design products that achieved the best results while making jobs safer, quicker and easier for the professional. He was an active member of the IWCA from the start, strongly supporting its mission to develop professionalism, ethics and standards of safety.
The IWCA Lifetime Achievement Award was established to honor a current or former individual member of the IWCA who has made major life-long contribution to the window cleaning industry as a practicing window cleaner, supplier, promoter or leader. It is above and beyond honorary membership. The Lifetime Achievement Award is extremely elite and not intended to be awarded each year.
Mark Unger, Henry's son, still helps to guide the company today, together with his two brothers, reaffirming their father's core values of quality, innovation and customer service.
"This award comes at a time of great significance for Unger as we celebrate our 50th anniversary this year. The fact that the IWCA are also celebrating an important milestone – their 25th anniversary – makes this even more special," says Mark Unger.
"Although Henry is no longer with us, having passed away in 1996, his legacy lives on. His greatest wish was to be remembered as someone who helped to make the industry more professional, developing equipment that enables window cleaners to accomplish their tasks in the easiest, quickest and safest ways possible. The IWCA Lifetime Achievement Award recognises his incredible achievements, and is a fitting tribute to a great man who was proud to be a window cleaner."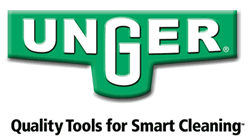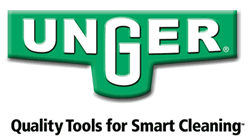 Half a century of dedication, innovation and understanding the needs of the professional cleaning sector will be marked next year, as Unger celebrates its 50th anniversary in 2014.
When Henry Unger seized the opportunity to improve the working lives of German window cleaners back in 1964, by introducing them to the latest innovative products from the US, he could not have guessed that he had started a European cleaning revolution.  From humble beginnings – he launched the business from his grandmother's attic in Hamburg – the company now spans the globe. The family values that inspired his vision remain strong today, and continue through his three sons, who still guide Unger, reaffirming their father's core values of quality, trust and customer service.
Unger window cleaning tools
Unger's 50 years so far have been filled with major milestones. The S Squeegee was the company's first breakthrough in 1966 – made from stainless steel, not bronze, and featuring a quick release mechanism to make changing the rubber strips easy, speeding up the cleaning process.  Fast forward to the Ergotec® Ninja, a quantum leap in squeegee design, form and usability; followed by the development of the HiFloTM PureWater cleaning system for windows and façades, and it's plain to see that Unger has never stood still in its quest to make window cleaning safer, swifter and even more successful in terms of results and profitability.
Plans for the half centenary celebrations include:
Special limited edition products made available to valued customers to help them commemorate this milestone with Unger
Celebratory events across the world, where customers and distributors will join with Unger to mark the occasion
Product promotions to thank and reward Unger's customers for their continued loyalty
And much more – watch this space!
2014 will not just be a time of celebration for Unger, it will also mark the start of another 50 years, and more, of innovation to come.

Wet hands and it's below zero – No fun right? 

          You've tried all kinds of gloves;
                   ones that are waterproof but let the water in,
                           ones that stink and make your hands smell bad,
                                        ones that fall apart after a week,
                       ….and yes, the ones that make you look like a scuba diver!
Finally, could we have found the perfect gloves for window cleaners?
* 40g 3M™ Thinsulate™ insulation
* OutDry® waterproof, windproof breathable bonded membrane
* Durable synthetic leather with PVC reinforced palm & fingers
* Breathable spandex back with foam knuckle pad
* Nylon/Spandex cuff with low-profile closure
* Terry thumb brow wipe
We think so…
Get a pair of ProFlex® 818OD Thermal Waterproof Gloves while we still have them 'on hand'.
(Price includes taxes and shipping to UK mainland)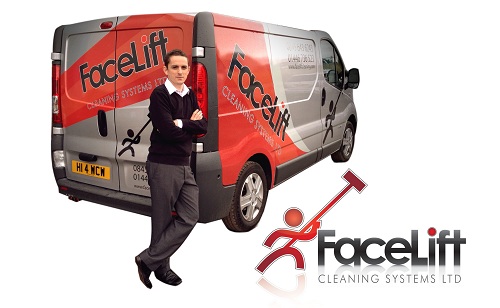 You'll recognise him as Mike Howard formerly export manager at Brodex Machine Services, now heading up Facelift Cleaning Systems. Mike who has been given free rein to develop the brand, commented on his new role, 'Facelift has an excellent worldwide reputation, I can't wait to push the new @ Facelift concept for window cleaners, it's an absolute dream come true!!'
The new Facelift Cleaning Systems concept and products will have the backing and support network of Window Cleaning Warehouse, well known throughout the industry.
Steve Fox, MD at Facelift Cleaning Systems said, 'After buying Facelift last year we have spent months on product development and needed the right guy on board to launch the exciting new range, Mike MASSIVELY fitted the bill'.
Twitter: @FaceliftSystems
Owing to the greatly enhanced marketing opportunity offered by the Cleaning Show 2013, which is co-locating with the IMHX International Materials Handling Show, several traditional Carpex/Windex exhibitors have elected to use a greater percentage and in some cases all of their marketing budget for this event.
Visitor numbers at the Cleaning Show 2013 are expected to significantly increase thanks to the co-location with IMHX, making this an event that no serious supplier to the cleaning and allied markets can afford to miss.
Few companies wish to attend both Carpex/Windex and the Cleaning Show 2013, and as a consequence Carpex/Windex 2012 has been cancelled.
The next Carpex/Windex exhibition will therefore take place in 2014.

Studio Arts are the leading UK based web design company specialising in providing websites for window cleaning companies.
To view some of the website designs available you can visit their site by clicking the picture above or visit the Window Cleaning Services directory which is an exclusive directory of websites already designed for clients.
Today we can proudly present our new PROCLEAN window cleaning range, including all tools and features which are essential for professional users: window squeegees, window washers, telescopic handles, buckets, tools holders, scrapers, dusters,…
The new ProClean Range is the result of more than 2 years of hard work in development and design. ProClean tools are made of prime quality materials and meet every expectation of performance, durability and ergonomics.
Moerman is committed to continuous product development always keeping in mind its motto: "Durable tools that perform!"
Experience the new PROCLEAN window cleaning tools now!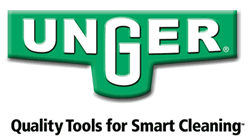 New Unger HiFlo™ nLite – Evolutionary Water Fed Pole Technology for Professionals
Unger is ushering in a new age of enlightenment with the launch of HiFlo™ Unger nLite  pole– the most advanced water-fed pole system to hit the market in years.
This latest innovation from Unger, the company that provides smart cleaning solutions to more than 80 countries worldwide, will change the way that windows and façades are cleaned forever by combining the best features of its telescopic and modular poles into a brand new system that delivers unrivalled results and adaptability.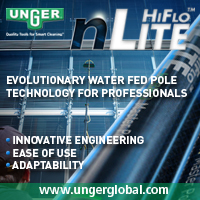 The key features of the new Unger HiFloTM nLite system are:
Innovative engineering
Perfect balance – better rigidity for more control, and yet up to 50% lighter in weight thanks to its carbon fibre technology
Hi tech design – every part of the system, from clamps and levers to brushes has been created to deliver the highest standards with cutting edge looksEase of use
Comfort and safety – the weight/rigidity balance makes HiFloTM nLiteeasier and more comfortable to use, even for longer periods of time
Easy assembly – extensions can be added quickly and easily, and equipment adjusted to tackle any cleaning situationAdaptability
Mix and match – only use as many poles or attachments as you need
Multi-talented system – the HiFloTM nLite can be used to clean glass and building facades, stain
less steel, solar panels, signage, and vehicles
Unique hose management system – allows the user to have the hose inside or outside the pole. The highest professional cleaning standards are even easier to achieve with the HiFloTM nLite system thanks to its perfect balance between weight and rigidity. Not only are the poles lighter than conventional versions, the use of cutting edge design and technology means that even when extensions are added rigidity is not compromised, and yet the weight and ergonomics of the system still make it a pleasure to use.The four section master pole cleans up to a height of 6.63m/22ft, but taller locations are easily reached by adding two-stage extensions to the base of the master pole. These extensions, each adding another potential 11ft of reach but crucially not adding anything to the width and feel of the pole, measure 35mm in diameter – an optimum size that fits easily into the hands of the professional for quick and comfortable cleaning. Even if you're cleaning to a height of around 65ft the HiFloTM nLite offers the 'gold standard' in terms of ease of use and results – because it combines just the right amount of rigidity to control your cleaning, but in a lightweight system that's better for the professional to use.Every part of the new system has been designed specifically with the user in mind. The clamps, which adjust pole height or attach the extensions, are simple to operate – no fiddly allen key-type devices needed – and easily adjustable to ensure the right tension; plus the gooseneck attachment is made from carbon fibre, again keeping weight to a minimum. Even the brushes are lighter – but that doesn't mean less features or functionality. On the contrary, a selection of brushes are available, one of which, at 60cm/24in, is large enough to quickly clean solar panels, featuring bristles designed to get into the smallest corner and help with scrubbing actions. Whereas conventional brushes usually only have two jets, HiFloTM nLite brushes can feature up to ten quick release jets, making it much easier to control the water flow and rinse surfaces.Dave Rogers, Unger Europe's European Sales Manager, said: "We believe that the HiFlo™ nLite is a truly revolutionary new product, the next generation of water-fed cleaning pole systems. We are confident that HiFlo™nLitewill be received enthusiastically by window cleaners and contract cleaners across the globe, thanks to its innovative features, ease of use and cost benefits. The launch of HiFlo™ nLite is a high point in Unger's history, a real leap forward in the evolution of professional cleaning equipment."If you want to be 'enlightened' the HiFlo™ nLite will be unveiled to the global cleaning industry on stand 1.205 at ISSA/Interclean, Amsterdam RAI, Netherlands 8-11 May.www.ungerglobal.com