water fed pole
For many traditional window cleaners, the thought of moving over to the water fed pole system is perhaps a daunting one. Your customers have been used to and sometimes even have a preference for traditional cleaning methods.  More than likely they have been happy with your work for a long time.
However, you're also aware of the benefits that the water fed pole system has to offer;  speed, safety, add-on service opportunities and ultimately the possibility of earning more money.
But what if some of your customers don't want you to use the water fed pole system? How can you make the transition whilst minimizing the risk of loosing customers?
Well, many window cleaners have taken this risk with a happy outcome. Based on what worked for them, here are some steps that we encourage you to take for a successful, smooth change to pure water cleaning methods.
Communicate the change beforehand in person
It's important you take the time to educate your customers as to how the system works. Explain to them that you intend to start using it because of the numerous benefits of this system. Give plenty of notice. Speak to as many of your customers as possible in person whether this be face to face or over the phone. This will give you a better chance of putting their minds to rest should they have any doubts regarding the system.
Provide notice in writing
Even if you have already spoken to your customers in person it is still a good idea to provide written notice of your intention to change to the water fed pole system. The note should briefly explain how the system works and encourage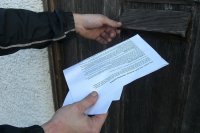 the customer to call you should they have any questions or reservations.
Inform them as to what to expect
When a window has been cleaned traditionally for a period of time the it is difficult to guarantee perfect results the first time it is cleaned with pure water due to the soap residue which has accumulated in the rubber seals etc. Explaining this to the customer beforehand in the letter can prevent problems due to poor first impressions. Make sure they are aware of what to expect and that the results improve after the first clean.
Point out the benefits to them as customers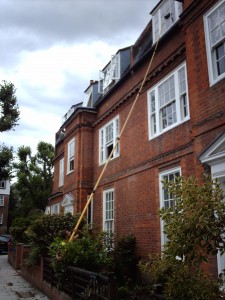 Telling the customer how the system benefits you will not convince your customers that it is a good idea. Instead, mention the benefits of the system from their point of view as customers. Eg. How you will now be able to do a better job of cleaning the frames, how you can now offer extra services to them like conservatory roof cleaning, fascia and soffit cleaning, solar panel cleaning etc. Mention any extra windows that you will now be able to reach with the water fed pole system that previously you were unable to clean e.g. Velux windows or roof lights – this can be a huge selling point.
Look for extra revenue generating opportunities
As we've just mentioned, using the water fed pole system allows you to offer extra services. Note down which add-on service opportunities there are on every job you have – Eg. Do they have fascia & soffits? conservatory roof?, cladding or solar panels? This would not be the time to go in for the 'hard sell' regarding these  – mention it as if it's a benefit to them and let them request the work if they want it. (Once the customer is more familiar with the pure water system, you can push a bit harder for extra jobs like this) This can help you see a quick return on your investment in the water fed pole system, which is also important.
Explain that it is quicker, but not cheaper
One of our readers had an issue with a few of his more scrupulous clients when they noticed he was completing the job quicker with the water fed pole system. They asked why he didn't charge less. A good response to this is to highlight that the system is more expensive to run, thus balancing the pricing out and allowing it to remain the same – you may want to pre-empt this question when communicating with your customers. After all, the price agreed is not an hourly rate but the price of a service to clean the windows. Investing in equipment to do the job quicker and more efficiently is quite normal but an investment like this wouldn't make sense if the price had to be dropped thereafter!
Make sure you know how to use the system
The water fed pole system is a tool, and like any tool, you need to know how to use it. It may be a good idea to get some practice in before you start on real customers and check your results.
Be flexible and / or expect some customer loss
Despite doing all of the above, it's inevitable that you will have some customers that insist they do not want you to use the water fed pole system – some people hate change. It's up to you how you deal with this – you can either continue to complete a section of your round traditionally, or you can politely drop the work. We're going to be talking low numbers and the time you save and additional income you make with the new system should outweigh any customer loss
Be extra vigilant and use extra rinse
They say first impressions count. Make sure you repeat the warning about first-clean results, but try to alleviate any problems the first time you complete your round with the water fed pole system by using extra rinse – you want to try and get rid of as much of the residual soap scum you've built up as possible. Be extra vigilant by doing a walk around at the end of every job. Check the results, check for any problems, and if necessary, go over problem windows twice. Pay extra attention to dirty frames and sills. This should improve your customer's impression of the first clean with the water fed pole system.
By carrying out as much of the above steps as possible, you ensure you have communicated with your customers every step of the way and minimized the risk of losing any of them as far as is possible.
By Mike Cooper, www.cleanerplanner.com
About the author
Mike has been involved in the window cleaning industry for many years, having specialised in the use of the water-fed pole system for nearly a decade. He has set-up and grown successful businesses in the UK and manages www.cleanerplanner.com
For most window cleaners, the water-fed pole system is no longer a new concept. For a lot of potential customers however, you'll still find you get the odd blank look when you tell them you'll be using a water fed pole system to clean their windows. "A what?"
Many potential customers doubt the system's ability to get the job done properly – it probably seems to defy anything they've ever known about cleaning with water. After all, when you clean the car, you leather it down right? The squeegee was invented for a reason, wasn't it?
Many dubious customers that have finally decided to throw caution to the wind, let their hair down and give the system a go have had bad experiences:  "No thanks, I've tried someone with that before and it didn't work" This has led them to the (incorrect) conclusion that it's the system that doesn't work.
The reality is that the most common causes of people's bad experiences are a) user error, and b) poor education of the client – not the system itself.
The first thing to highlight to a client is that the system is a tool, and like any tool, has to be used correctly to get the job done properly. A chisel in the hands of a child will not get a door hung, but only a fool could argue that a chisel is not a functional tool. This might go some way to re-adjust their concerns over the system itself if they've already had a bad experience. (Of course, it's important to make sure you know how to use the system properly yourself!)
Secondly, educating your customers on how the system works is vital. Make very sure they know that the water is specially purified, and because of that can be left to dry naturally. Talk about the benefits of the water-fed pole system – the fact that there are no ladders, no risk of damage, no chemicals, better results and so on.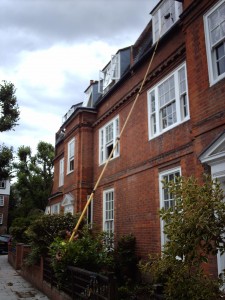 It's also vital that you set their expectations from the start. This is hugely important when taking on new clients, or when making the change from traditional methods with existing clients.
For example, the first time you clean a window with the water fed pole system, the results are not always perfect first time, no matter how thoroughly you do the job. This is usually because large amounts of ingrained dirt around the window frame and seals, dirt that is never removed by traditional methods, are dislodged easily by pure water cleaning. Because of the amount of it, it's difficult to get rid of completely on the first clean. In addition, particularly if the windows have been cleaned for any length of time by traditional methods, you will find a build-up of soap scum is released from the seals of the window (which is why you'll sometime notice a window foam up) when you clean it. Again, you release potentially years' worth of soap build up that can continue to seep onto the window after you have left, affecting the finish.
Take the time to look at the job in hand. Are there any leaded windows? Lead oxidises and forms a white powdery substance that can affect the finish in a very similar way. Wooden frames with old, powdery paint can also have a similar affect the first time they are cleaned with pure water.
Whenever I take on a new customer, I make sure I take the time to explain that this could be the case, and that after the first clean or so, the results are better than ever, even lasting longer.
Provided you set this expectation, it's very rare that you will get any complaints over the quality of the first finish and, as long as you use pure water and the right technique, the results will speak for themselves in the long run.
I've found that if you get this right, even the most cynical of customers can become a convert to pure water window cleaning. Mastering this when you are developing your business will only help you gain more long term customers and ultimately more revenue.
By Mike Cooper, www.waterfedpoleguide.com
About the author
Mike has been involved in the window cleaning industry for many years, having specialised in the use of the water-fed pole system for nearly a decade. He has set-up and grown successful businesses in the UK and manages www.waterfedpoleguide.com
This water fed poles crash course will give you a  glimpse at what is on the market and the various features of the poles.
Check out the Play List below to view individually or click Play All above to watch them all. 
Things to consider when considering which water fed pole to buy:
Length of the pole.
Don't just look at the extended length for the job required. When the pole is closed will it fit in your van or car comfortably or will you need to put it on the roof rack? How easy is it for you to reach the clamps when extending and collapsing?
Weight of the pole
This is especially important for the longer poles used for high work. For short bursts of high work a heavier pole may be fine but for extended periods of time  a lighter pole is important. Not only will you work faster and in more comfort but your back and shoulders will thank you for it at the end of the day.
Rigidity of the pole.
A rigid pole is easier to control although some flexibility is required to reduce breakage. A water fed pole with too much bend will quickly sap your energy.
Material of the pole.


Carbon fibre poles are very light and rigid.  However they can break more easily if treated without due respect. Glass fibre or aluminium is a heavier material but more resistant. Some poles combine the materials taking advantage of both. These are called 'hybrid' poles.

Usage.
Will the pole be used by yourself or by employees? Will they treat the pole with care? If it likely to be thrown around then a glass fibre or aluminium pole may be a more durable option.
Versatility
Some people like a collection of specific poles – one for every kind of job. Others choose one or two poles that are comfortable to use for a wide range of jobs.  
Modular or telescopic?
Usually a modular pole will have an external pole hose. A bag or trolley is often provided so that you can add and remove sections as needed. The advantage of modular poles is that they weigh less not having clamps on them and the fact that you only use and carry the length of pole needed. However, if you are happy to carry the extra weight an extendable  telescopic pole is less fiddly and is quicker to use. If you choose modular how do the pieces connect? Heavy mechanisms may weigh as much as clamps. Tapered push fits are prone to getting stuck together. Getting them separated is possible but not easy!
Price and budget
Obviously a key factor for most of us is the depth and resources of our pocket. Weigh your options carefully. Buying a cheaper pole that doesn't tick all your boxes could end up costing you more.  Likely you will end up having to buy a different pole in the end spending again.
If you are thinking of buying a new water fed pole or just want to know what's out there on the market then you will love this playlist I put together…
Most of the videos shown in the playlist are of actual water fed pole manufacturers demonstrating and explaining  the selling points of their products.
Click here to watch these videos and get a glimpse at what water fed poles are on the market right now and their various features.
Enjoy….
This
These helpful water fed pole reviews were created by J. Racenstein . They compare the rigidity of a range of water fed poles carried in their store. The water fed pole reviews are in the range of 25-32ft.
Poles in this video include the Ionic Grafter and the Ionic Grafter Plus.  The Gardiner CLX (not the Xtreme), the Unger nLites in both Hybrid and Full Carbon Fiber Model and their very own 3-Star branded poles also in Hybrid and full Carbon Fibre.
For those of you disappointed not to see the Gardiners Super Lite Xtreme in the line up, here's another video showing the rigidity of the Superlite Xtreme. 
The Unger indoor window cleaning kit. Great for maintenance cleans.



A brief demonstration of the Unger nLite brush for water fed poles.
Become a Contributor to this site and let us know your personal reviews of the new Unger nLite water fed pole.
[youtube http://www.youtube.com/watch?v=uB39sYzR8Xk?rel=0]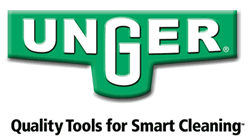 New Unger HiFlo™ nLite – Evolutionary Water Fed Pole Technology for Professionals
Unger is ushering in a new age of enlightenment with the launch of HiFlo™ Unger nLite  pole– the most advanced water-fed pole system to hit the market in years.
This latest innovation from Unger, the company that provides smart cleaning solutions to more than 80 countries worldwide, will change the way that windows and façades are cleaned forever by combining the best features of its telescopic and modular poles into a brand new system that delivers unrivalled results and adaptability.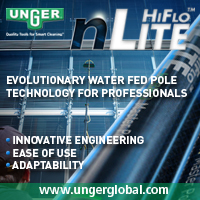 The key features of the new Unger HiFloTM nLite system are:
Innovative engineering
Perfect balance – better rigidity for more control, and yet up to 50% lighter in weight thanks to its carbon fibre technology
Hi tech design – every part of the system, from clamps and levers to brushes has been created to deliver the highest standards with cutting edge looksEase of use
Comfort and safety – the weight/rigidity balance makes HiFloTM nLiteeasier and more comfortable to use, even for longer periods of time
Easy assembly – extensions can be added quickly and easily, and equipment adjusted to tackle any cleaning situationAdaptability
Mix and match – only use as many poles or attachments as you need
Multi-talented system – the HiFloTM nLite can be used to clean glass and building facades, stain
less steel, solar panels, signage, and vehicles
Unique hose management system – allows the user to have the hose inside or outside the pole. The highest professional cleaning standards are even easier to achieve with the HiFloTM nLite system thanks to its perfect balance between weight and rigidity. Not only are the poles lighter than conventional versions, the use of cutting edge design and technology means that even when extensions are added rigidity is not compromised, and yet the weight and ergonomics of the system still make it a pleasure to use.The four section master pole cleans up to a height of 6.63m/22ft, but taller locations are easily reached by adding two-stage extensions to the base of the master pole. These extensions, each adding another potential 11ft of reach but crucially not adding anything to the width and feel of the pole, measure 35mm in diameter – an optimum size that fits easily into the hands of the professional for quick and comfortable cleaning. Even if you're cleaning to a height of around 65ft the HiFloTM nLite offers the 'gold standard' in terms of ease of use and results – because it combines just the right amount of rigidity to control your cleaning, but in a lightweight system that's better for the professional to use.Every part of the new system has been designed specifically with the user in mind. The clamps, which adjust pole height or attach the extensions, are simple to operate – no fiddly allen key-type devices needed – and easily adjustable to ensure the right tension; plus the gooseneck attachment is made from carbon fibre, again keeping weight to a minimum. Even the brushes are lighter – but that doesn't mean less features or functionality. On the contrary, a selection of brushes are available, one of which, at 60cm/24in, is large enough to quickly clean solar panels, featuring bristles designed to get into the smallest corner and help with scrubbing actions. Whereas conventional brushes usually only have two jets, HiFloTM nLite brushes can feature up to ten quick release jets, making it much easier to control the water flow and rinse surfaces.Dave Rogers, Unger Europe's European Sales Manager, said: "We believe that the HiFlo™ nLite is a truly revolutionary new product, the next generation of water-fed cleaning pole systems. We are confident that HiFlo™nLitewill be received enthusiastically by window cleaners and contract cleaners across the globe, thanks to its innovative features, ease of use and cost benefits. The launch of HiFlo™ nLite is a high point in Unger's history, a real leap forward in the evolution of professional cleaning equipment."If you want to be 'enlightened' the HiFlo™ nLite will be unveiled to the global cleaning industry on stand 1.205 at ISSA/Interclean, Amsterdam RAI, Netherlands 8-11 May.www.ungerglobal.com