window cleaner directory

Studio Arts are the leading UK based web design company specialising in providing websites for window cleaning companies.
To view some of the website designs available you can visit their site by clicking the picture above or visit the Window Cleaning Services directory which is an exclusive directory of websites already designed for clients.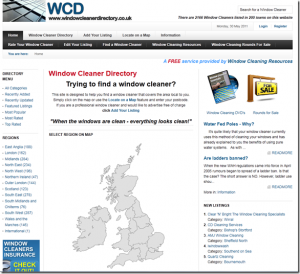 Window Cleaning Resources are pleased to announce that the No.1 ranking WINDOW CLEANER DIRECTORY has now been given an impressive overhaul.
You can now edit your listing  upload your logo, include other add on services and encourage your customers to give you a high rating and positive review. We've made lots of improvements to the user experience, making it as easy as possible for potential customers to find you.
Look up 'window cleaners' or 'window cleaning'   in Google.co.uk and you will see that www.windowcleanerdirectory.co.uk is ranked very highly. We have now dedicated an entire web page to your listing giving you a much more detailed profile. Listing your business along with a link to your website remains completely free and will help drive traffic to your own site and likely boost its search engine rankings thanks to the links from the directory.
By popular request we have also included a category for International listings!
Many window cleaners have already expressed thanks for the work they have received through the directory and we are confident that it will continue to be a valuable asset to your marketing efforts.
The overhaul of the directory is just the first step in a major overhaul planned and well underway behind the scenes for the Window Cleaning Resources sites which have proved to be a highly popular destination for window cleaners surfing the web in search of the best deals from suppliers, new products, tips and advice and window cleaning rounds for sale . (Watch this space!)
We encourage you to claim and update your listing  as soon as possible to benefit fully from this free service provided by Window Cleaning Resources.