Window Cleaning Tools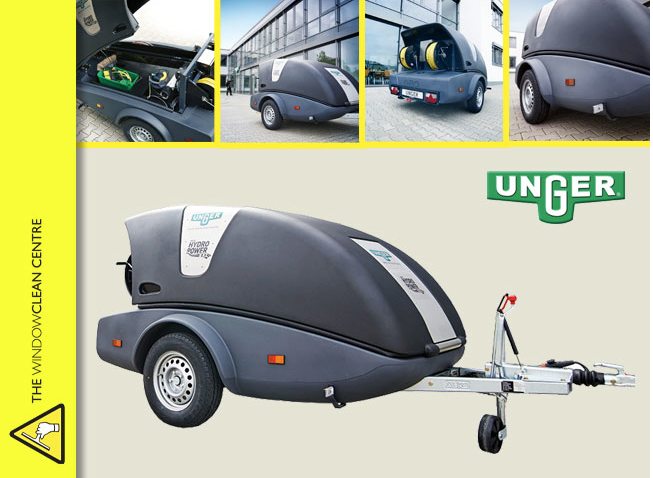 The Windowclean Centre are delighted to have taken delivery of the first Unger nLite HydroPower XXL RO Trailer into the UK.
Details
Fully Integrated Trailer System with RO Filter + 750L water tank. Total flexibility for producing and transporting 100% pure water for water fed pole cleaning! Fitted out with hi spec components, offering BIG capacity and performance, it's the ONLY real alternative to commercial van mounted systems.
Pure Water tank capacity: 750L.
1 or 2 man operation via 2x hose reels and 2x 12V / 150 psi pumps.
Each high quality hose reel is fitted with 100m hose for optimal reach.
Pure water output – up to 250L per hour per person.
Digital controller monitors water flow, pressure and battery power.
Control water flow Rinse / Wash modes manually or by wireless remote control.
3 stage water purification production with dedicated 12V / 150 psi pump. (Sediment / Carbon Pre-filter, RO Membrane and nLite HydroPower™ DI Filter Polisher).
Integrated TDS meters monitor RO and final polish results.
High capacity 12 Volt Gel battery offers 'all day' operation before requiring recharge.
Maintenance free 210 amp hour Gel battery with mains charger supplied.
Integrated storage compartment fits up to 6 water fed poles up to 1.91m long, with side storage areas for brushes, safety signs and other accessories.
Suitable for vehicles with towing capacity of 1,350kg.
DOT road specification, single axle, integrated lights and indicators with brake assist.
Supplied with european standard coupling, jockey wheel and manual parking brake. Conforms to EU regulations.
The multi-chamber tank design with low centre of gravity is designed to maximise stability during transportation.
Includes Auto Shut Off features, activated during water production mode when the tank becomes full and during use when the TDS of the outgoing water measures 5ppm (can be changed to lower or higher number).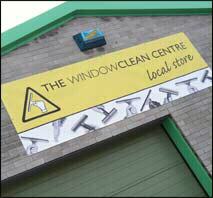 For further details contact:-Darrell Chalkley at
The Windowclean Centre
Tel: 0800 413512/01473 215295

Wet hands and it's below zero – No fun right? 

          You've tried all kinds of gloves;
                   ones that are waterproof but let the water in,
                           ones that stink and make your hands smell bad,
                                        ones that fall apart after a week,
                       ….and yes, the ones that make you look like a scuba diver!
Finally, could we have found the perfect gloves for window cleaners?
* 40g 3M™ Thinsulate™ insulation
* OutDry® waterproof, windproof breathable bonded membrane
* Durable synthetic leather with PVC reinforced palm & fingers
* Breathable spandex back with foam knuckle pad
* Nylon/Spandex cuff with low-profile closure
* Terry thumb brow wipe
We think so…
At Browns Ladders, we want to give you a quick guide to carrying out pre-use window cleaning ladder safety inspections.
Hundreds of workers are killed or seriously injured ever year from falling off ladders while cleaning windows – and sometimes it's down to a faulty ladder. That's why you should carry out inspections every time carry out a window cleaning job.
Why is it important to carry out ladder safety inspections?
Since ladders are just everyday objects, it's easy to take them for granted. But like any work equipment, people must be trained and competent in order to use them safely.
It's recommended that you have them thoroughly checked by a competent person at least every 6 months. You or your window cleaning employees must also carry out pre-use ladder safety inspections before using the equipment.
Pre-use ladder safety checks before window cleaning
1. Stiles
Make sure the stiles are not dented, splintered or creased. Any deformed or stiles are a sign your ladder may snap or bend.
2. Feet
Are they feet worn, damaged or missing? That's a recipe for disaster. You need to be able to rest the feet on the surface without it wobbling.
3. Steps and rungs
Missing splintered or bent steps and rungs weaken the ladder. It may cause it to collapse while in use
4. Side Stays, braces or handrails
If they are bent, loose or damaged or not firmly attached, you definitely need to check them properly.
5. The platform
Again, if this is bent, or rivets aren't attached properly, they'll be trouble because the structural integrity will be compromised. Also, check the platform's support bar is not compromised in any way
6. General ladder/stepladder inspections
Check the entire ladder/stepladder for cracks, loose rivets, and splinters, ensuring it's on a level surface and that the steps are clean & dry – because of wear or due to spills in prior use.
7. Paint on ladders
Don't paint your ladders or use ones they are already painted – it covers up defects.
8. Safe Working Load 
Even if the ladder looks ok…check its load capacity before cleaning the windows – and stay well within that range.
Besides the squeegee, ladders are among the window cleaner's most useful tools. As a professional, you need to be able to access all the windows of every building you work on. There's nothing worse than starting a job and realising you have the wrong ladders.
That's why we want to help you choose the right ladders and step ladders for window cleaning…
Folding step ladders
While very handy to have for a variety of jobs, step ladders are usually used by window cleaners for storefronts and in inside houses. Having both a six and ten-foot step ladder should cover most tasks nicely.
Material wise, choose aluminium because it's much lighter to carry around. While wooden step ladders are strong, they are too heavy to carry around all the time.
Extension ladders
Exterior residential windows above the 1st floor are usually done with an extension ladder, made from either fiberglass or aluminium. They should also have swivelling feet and a rope and a pulley system.
Fibreglass ladders are safer around power lines because they do not conduct electricity. While slightly more expensive than aluminium, it is essential for work around electricity.
You should pick a long enough extension ladder for most of your jobs without going over the top. 20-foot extension ladders will generally be tall enough to reach second floor windows, but if you want to go higher, you'll need a 30-foot ladder for window cleaning. There's no need for a 40-foot ladder – it's huge and if you are going that high you may as well just use rope access.
A newbie window cleaner should be ok with a 24 foot ladder and can rent a larger ladder if needed.
Sectional ladders
Sectional ladders are probably your best bet if you are a professional window cleaner, since they are specifically designed for window cleaning. You can tell because of the triangular end which is designed to fit in hard to position places.
Obviously, the reason they are called sectional ladder is because they come in sections, which can lock together to make a complete ladder. It's probably best to get one in 4 to 5 sections. Most cleaners only use 4 sections for safety reasons.
Anyone who owns a house knows what an arduous task window cleaning can be – so they may have heard of very specific equipment called roof ladders. Windows get smudged quickly and need to be cleaned often to keep them looking clear and attractive.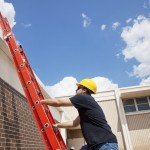 Are you an independent window cleaner? Or are you a homeowner planning to clean your windows? Well, unless you own a big business, it's likely that you won't be able to afford expensive access equipment – so you'll be using a good old-fashioned ladder But wait…don't just jump on your ladder and start cleaning – There's a whole host of ladder safety rules to consider.
Did you know that there are several falls from ladder related deaths every year as well as being a major cause of serious injuries? Don't worry – our friends at Browns Ladders are here with some easy-to-follow rules to keep you safe while window cleaning using ladders.
Yes, it is possible to start using a cheap water fed pole system for less than £400.
Some window cleaners are still not sure that using a water fed pole system is a wise business choice. Some commonly held doubts are:
–          Will my customers react favourably to a new method of cleaning their windows?
–          Will I be able to achieve excellent results, cleaning the windows to the same standard or higher than using traditional methods?
–          Is it a suitable method for the work I have?
–          Will I really save time using a water fed pole system on my round?
–          If so, will the extra money I am able to earn cover the running costs of the system?
The only way to resolve these questions is to try it out properly, using it on your round.
However if you are not fully convinced then likely you are reluctant to take the plunge and spend your hard earned money on an expensive system.  Your best bet then is to just 'test the water' , excuse the pun, but yes , test the water fed pole system.
We at Full Clean Centre, also known as Bayersan , have  recently introduced our new water fed pole trolley system.  This  trolley, named 'Impressor 30',  has been introduced in response to the changing demands of the window cleaning sector. It is simple and ready to use, functional, easily serviceable and efficient.
The 80psi pump is powered by a 12v, 18ah battery and can be operated easily with a 3 speed controller. The trolley also includes a charger and battery indicator.
As an alternative to the trolley system is the backpack set up. Backpacks are brilliant machines which allow you to be even more portable and efficient, in many cases  speeding up your work . For example,  cleaning the backs of terraced houses, inner courtyards and other situations where trailing hoses can cause problems.
Whether you opt for a trolley system or backpack system, our low cost starter systems come with an Impressor water fed pole and the fittings required to connect to the trolley or backpack. All you need to do is just add pure water. This works out to be one of the cheapest water fed pole systems.
We also supply DI resin and pressure vessels  for immediate pure water production or RO systems for a more cost effective pure water production system in the long run.
We have a range of poles to suit your budget and stock other useful extras such as TDS meters to measure the purity of your water and extra water containers. You will find everything you need to start at very reasonable prices at the Full Clean Centre.
In answer to the question, yes you can be set up with a cheap water fed pole system for less that £400.
We invite you to come and visit our website at www.fullcleancentre.com
This water fed poles crash course will give you a  glimpse at what is on the market and the various features of the poles.
Check out the Play List below to view individually or click Play All above to watch them all. 
Things to consider when considering which water fed pole to buy:
Length of the pole.
Don't just look at the extended length for the job required. When the pole is closed will it fit in your van or car comfortably or will you need to put it on the roof rack? How easy is it for you to reach the clamps when extending and collapsing?
Weight of the pole
This is especially important for the longer poles used for high work. For short bursts of high work a heavier pole may be fine but for extended periods of time  a lighter pole is important. Not only will you work faster and in more comfort but your back and shoulders will thank you for it at the end of the day.
Rigidity of the pole.
A rigid pole is easier to control although some flexibility is required to reduce breakage. A water fed pole with too much bend will quickly sap your energy.
Material of the pole.


Carbon fibre poles are very light and rigid.  However they can break more easily if treated without due respect. Glass fibre or aluminium is a heavier material but more resistant. Some poles combine the materials taking advantage of both. These are called 'hybrid' poles.

Usage.
Will the pole be used by yourself or by employees? Will they treat the pole with care? If it likely to be thrown around then a glass fibre or aluminium pole may be a more durable option.
Versatility
Some people like a collection of specific poles – one for every kind of job. Others choose one or two poles that are comfortable to use for a wide range of jobs.  
Modular or telescopic?
Usually a modular pole will have an external pole hose. A bag or trolley is often provided so that you can add and remove sections as needed. The advantage of modular poles is that they weigh less not having clamps on them and the fact that you only use and carry the length of pole needed. However, if you are happy to carry the extra weight an extendable  telescopic pole is less fiddly and is quicker to use. If you choose modular how do the pieces connect? Heavy mechanisms may weigh as much as clamps. Tapered push fits are prone to getting stuck together. Getting them separated is possible but not easy!
Price and budget
Obviously a key factor for most of us is the depth and resources of our pocket. Weigh your options carefully. Buying a cheaper pole that doesn't tick all your boxes could end up costing you more.  Likely you will end up having to buy a different pole in the end spending again.
If you are thinking of buying a new water fed pole or just want to know what's out there on the market then you will love this playlist I put together…
Most of the videos shown in the playlist are of actual water fed pole manufacturers demonstrating and explaining  the selling points of their products.
Click here to watch these videos and get a glimpse at what water fed poles are on the market right now and their various features.
Enjoy….
These helpful water fed pole reviews were created by J. Racenstein . They compare the rigidity of a range of water fed poles carried in their store. The water fed pole reviews are in the range of 25-32ft.
Poles in this video include the Ionic Grafter and the Ionic Grafter Plus.  The Gardiner CLX (not the Xtreme), the Unger nLites in both Hybrid and Full Carbon Fiber Model and their very own 3-Star branded poles also in Hybrid and full Carbon Fibre.
For those of you disappointed not to see the Gardiners Super Lite Xtreme in the line up, here's another video showing the rigidity of the Superlite Xtreme. 

A brief demonstration of the Unger nLite brush for water fed poles.