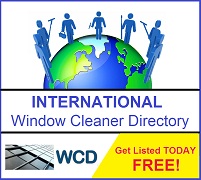 ---
Good marketing can show your customers that you take your business seriously and in their mind will therefore be professional when it comes to the providing the service.
Marketing doesn't have to be as dramatic as vehicle branding with a complete van wrap although that would certainly show you mean business! Good stationery and a presentable uniform can also speak volumes about your work ethics.
Even if you have a small, simple domestic round present yourself well by being clean shaven, having a tidy appearance and being friendly and courteous. This sends the right message to customers. They are then more likely to trust and respect you and will be prepared to pay more for your services than they would if you came across like you didn't really take pride in your job.
To become well known in the area you work, try and establish a recognizable 'brand'. Carry the theme of your corporate image through to all aspects of your advertising and marketing. Choice of colours and a simple eye catching logo will help. Think of easily recognizable companies in your area and ask yourself what makes their image work.
These days most households have access to the internet. If you wish to advertise your business then the first place to start is on the internet. It's therefore a good idea to think seriously about creating a website if you haven't already done so. See Website Design Services.
Once you have a website, obviously you will want people to visit it. How will they find it?
The easiest way of helping people to find your website is by listing it in related internet directories. These links will also help search engines find your site and improve the site's ranking in search engine results. As a general rule the more links you have to your site, the better your search engine rankings..
A new online directory of UK window cleaners has been launched in association with Window Cleaning Resources. Unlike many online directories, www.windowcleanerdirectory.co.uk allows you to list your website absolutely free!
If you don't have a website, don't worry an email link is also provided at no cost.
See also Printing Services, Canvassing Services and Vehicle Graphics and Signwriting