suppliers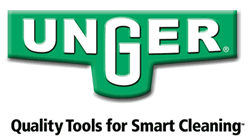 Last week Unger UK announced the launch of the company's first online Store
The Store offers a comprehensive selection of spare parts for Unger professional Window Cleaning range, including water fed poles and traditional tools. The move to sell direct to consumers is another step towards 100% Customer Satisfaction Guarantee initiative, launched by Unger earlier this year.
With Unger products known for their quality and longevity, the Store will enable consumers to extend the lifetime of Unger equipment even further by providing an opportunity to seek competent advice and source parts without delay, direct from the manufacturer.
It is expected that an online presence will help the company to grow sales in other markets, with SmartFit™ Floor Squeegees and the NiftyNabber™ Litter Picking range also on offer.
"Quality Tools at Affordable Prices."
This is the approach that has helped Bayersan to establish themselves as a major supplier in the European market. Now this combination of quality and affordable prices is helping the company to gain an ever stronger foothold in the UK market.
In recent years their innovative range of traditional tools has become increasingly popular among UK professional window cleaners. Particularly successful have been the Bayersan branded soft rubbers which are now widely used and available through various stockists. This same motto of quality at affordable prices has been applied to the development of a new range of water fed pole equipment which will be revealed to the industry at the Windex exhibition in March this year.
Of particular interest will be the launch of a new, very affordable range of water fed poles – the PREMIUM range and the IMPRESSOR range. Since their last exhibition at the Cleaning Show last year, Bayersan have also been busy expanding their water fed pole brush range. Now all their poles are available with a choice of square, sill or lightweight gooseneck brushes. It will also be very interesting to see what Bayersan have in store when they unveil their new RO Trolley System.
The message from Bayersan is clear;
"We may be relatively new on the scene in the UK, but the quality of our tools speak for themselves. We are here to stay."