This water fed poles crash course will give you a
glimpse at what is on the market and the various features of the poles.
Things to consider when considering which water fed pole to buy:
Length of the pole.
Don't just look at the extended length for the job required. When the pole is closed will it fit in your van or car comfortably or will you need to put it on the roof rack? How easy is it for you to reach the clamps when extending and collapsing?
Weight of the pole.
This is especially important for the longer poles used for high work. For short bursts of high work a heavier pole may be fine but for extended periods of time  a lighter pole is important. Not only will you work faster and in more comfort but your back and shoulders will thank you for it at the end of the day.
Rigidity of the pole.
A rigid pole is easier to control although some flexibility is required to reduce breakage. A water fed pole with too much bend will quickly sap your energy.
Will the pole be used by yourself or by employees? Will they treat the pole with care? If it likely to be thrown around then a glass fibre or aluminium pole may be a more durable option.
Material of the pole.
Carbon fibre poles are very light and rigid.  However they can break more easily if treated without due respect. Glass fibre or aluminium is a heavier material but more resistant. Some poles combine the materials taking advantage of both. These are called 'hybrid' poles.
Versatility
Some people like a collection of specific poles – one for every kind of job. Others choose one or two poles that are comfortable to use for a wide range of jobs.
Modular or telescopic?
Usually a modular pole will have an external pole hose. A bag or trolley is often provided so that you can add and remove sections as needed. The advantage of modular poles is that they weigh less not having clamps on them and the fact that you only use and carry the length of pole needed. However, if you are happy to carry the extra weight an extendable  telescopic pole is less fiddly and is quicker to use. If you choose modular how do the pieces connect? Heavy mechanisms may weigh as much as clamps. Tapered push fits are prone to getting stuck together. Getting them separated is possible but not easy!
Price and budget
Obviously a key factor for most of us is the depth and resources of our pocket. Weigh your options carefully. Buying a cheaper pole that doesn't tick all your boxes could end up costing you more.  Likely you will end up having to buy a different pole in the end spending again.
If you are thinking of buying a new water fed pole or just want to know what's out there on the market then you will love this playlist I put together…
Most of the videos shown in the playlist are of actual water fed pole manufacturers demonstrating and explaining  the selling points of their products.
Click here or on the thumbnail pictures below to watch these videos and get a glimpse of some of the water fed poles that are on the market right now and their various features.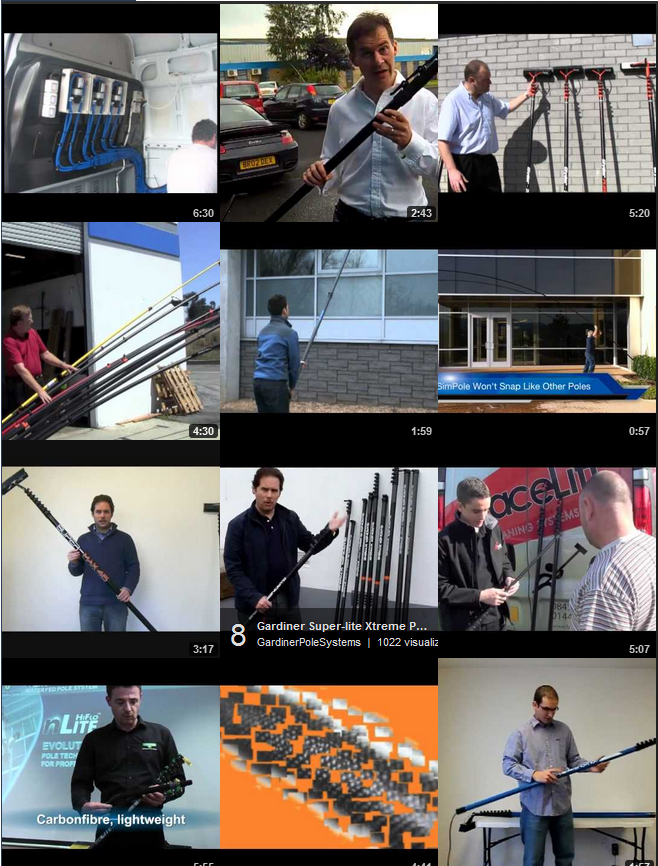 Enjoy….