Window Cleaning Resources have produced three instructional DVD's for window cleaners.
These DVD's have helped many window cleaners to take their skills to the next level.
---
1. For beginners using traditional methods we recommend...
Window Cleaning Essentials
AVAILABLE TO BUY HERE -  Ideal for newcomers to the trade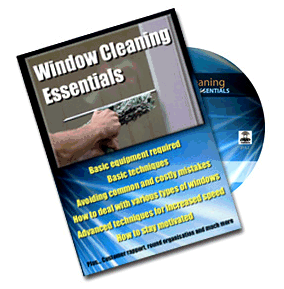 With the Window Cleaning Essentials DVD you will discover...
Basic techniques and equipment required for novice window cleaners and anyone who might be considering starting their own window cleaning business
How to deal with various types of windows such as leaded and Georgian windows.
Hints and tips that will help you avoid common and time costly mistakes.
How to stay organise your work and remain motivated.
How to increase your income by improving the efficiency of your technique.
An advanced technique is put to the test and the huge time difference is clearly shown, illustrating the effect it will have on your earnings.
---
2. For more experienced window cleaners using traditional methods we recommend...
Advanced Window Cleaning Skills
AVAILABLE TO BUY HERE - This DVD is an ideal training aid for new staff.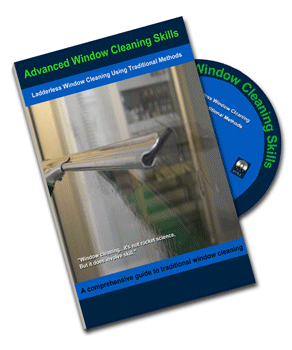 Learn such skills as; selecting the right tool for the job, minimising detailing, cleaning interior windows, using a scraper blade and the various techniques used for using a traditional extension pole up to a height of 10 metres.
Warning:
This DVD could seriously transform the way you and your staff clean windows.
Testimonials:
"I think your DVD is brilliant. I've only been in this business 15 months. I found high work indoors very difficult, but since I purchased your DVD I'm now looking forward to high pole work indoors. It's amazing how much I learned from your DVD and I'm still referring back to it."
- Tom Murphy - Limerick, Ireland
"There is a lot of useful stuff in there even for a hardened professional."
- Karl Robinson - Mallorca, Spain
"A very good educational video. Very hands on.... Detailed footage of window cleaning products and window cleaning techniques combined with health and safety.''
- Unger Global
---
3. For those considering the use of water fed pole systems we recommend...
Choosing and Using a Water Fed Pole System
AVAILABLE TO BUY HERE - This DVD can also be used as a training aid for new staff.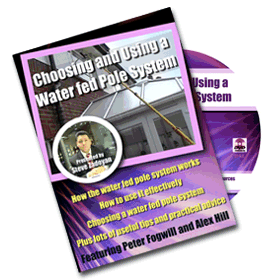 Choosing and Using a Water Fed Pole System looks at such topics as how the water fed pole system works, how to use a water fed pole effectively on hydrophobic and hydrophillic windows and what to consider when deciding which type of system is best according to your needs.
Peter Fogwill (well known for his patent pending Autobrush) contributes his experience and advice and Alex Hill shares some further practical and useful tips to make this video a wise investment for all water fed pole users.
You will find this video particularly helpful if you are wondering which kind of set up would suit your round best. (eg. van mount system, trailer system or trolley system.)
---