window cleaning safety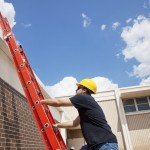 Are you an independent window cleaner? Or are you a homeowner planning to clean your windows? Well, unless you own a big business, it's likely that you won't be able to afford expensive access equipment – so you'll be using a good old-fashioned ladder But wait…don't just jump on your ladder and start cleaning – There's a whole host of ladder safety rules to consider.
Did you know that there are several falls from ladder related deaths every year as well as being a major cause of serious injuries? Don't worry – our friends at Browns Ladders are here with some easy-to-follow rules to keep you safe while window cleaning using ladders.