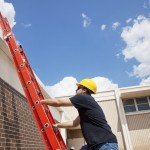 Are you an independent window cleaner? Or are you a homeowner planning to clean your windows? Well, unless you own a big business, it's likely that you won't be able to afford expensive access equipment – so you'll be using a good old-fashioned ladder But wait…don't just jump on your ladder and start cleaning – There's a whole host of ladder safety rules to consider.
Did you know that there are several falls from ladder related deaths every year as well as being a major cause of serious injuries? Don't worry – our friends at Browns Ladders are here with some easy-to-follow rules to keep you safe while window cleaning using ladders.
Rules of thumb for ladder safety
1. First thing's first: Before you even contemplate climbing the ladder, make sure it's the right one for the job – that means getting just the right size. Also, do a pre-use ladder safety check, which should include looking for defects or imperfections in the ladder. If you spot anything suspicious about its condition DON'T USE IT!
2. Angle: If you are leaning a ladder against a wall, don't place the ladder at an angle where it might slip away or fall over – that means not too far against the wall and not at a shallow angle. Also, either ask someone to hold the bottom of the ladder for you or use a ladder safety accessory like a rubber stopper or feet.
3. Gutters on your roof?: Don't lean any ladders against them, especially if they are made of plastic – it's likely that they will get damaged. Instead, make sure you position the top of the ladders just underneath them.
3. Don't lean ladders on windowsills: This can be slippery and can mark your windowsill as well. Just like gutters, they also may be plastic and all your weight will be leaning against it – position the end of your ladder just underneath it.
4. Don't stretch: Essentially, you can't lean over too far on either side – obviously. The imbalance in weight could cause it to tip over. It's a much better practice of ladder safety to just climb down and reposition it. Always keep at least three points of contact on the ladder.
5. Surface: Putting a ladder on uneven ground is a very silly idea, so don't do it. If the ground is uneven, take steps to make it a stable surface. Ladder stabilisers may help you to do this to ensure a high level of ladder safety.
6. Unattended ladders: Need to leave the job for a minute? Don't just leave the ladder leaning against a wall! What if a child steals it or the wind blows it over and it falls on someone? Lay it on the floor first.
7.  Bad weather: Obviously, adverse weather conditions will cause problems. Snow and ice will cause the ladder to fall over. Just leave the job until for now until it clears.
8. Safety accessories: Use some ladder safety products if you can – ladder feet are worth the investment, for example, for helping to keep the ladder steady on uneven surfaces.