Aichi offers wheeled or tracked chassis on new 'Global Series' 12m and 14m self-propelled boom lifts.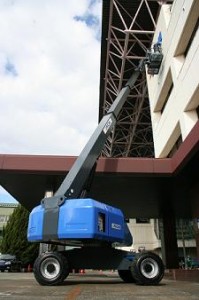 New 'Global Series' booms with wheels
Aichi's new SP/SR14CJ and SP/SR12C 'Global Series' booms combine rugged, high specification engineering, versatile working range and compact design which raise the bar in the UK market for 12m/14m working height articulated booms.
The first boom lifts to be launched under Aichi's 'Global Series', the new platforms come in wheeled versions (SP models) as well as with Aichi's more familiar tracked chassis (SR models). They are available in the UK from Aichi dealer, Ranger Equipment, the Chesterfield-based specialist in premium access.
With 13.6m working height, the larger SP/SR14CJ models feature a 3-stage boom: an articulating upper boom with 1.75m fly jib (-70/+60 degrees articulation range), plus two-section telescoping lower boom. This gives a more dynamic working envelope compared to other boom lifts in their class, including the longest horizontal outreach – 12.7m. The platform folds down to transport-friendly proportions, with a stowed height of 2.44m and stowed length of 7.55m. Gross vehicle weight is 8510kg.
The smaller SP/SR12C models offer 11.7m w/h and 10.9m maximum outreach (although no fly-boom). Stowed height is 1.73m and stowed length 7.02m. Gross vehicle weight is 7675kg. Ground clearance on all SP/SR models is 335mm, and capacity is 250kg (for 1.82m basket) or 227kg (2.4m basket).
"The availability of wheeled models will suit the UK market's preference for this type of chassis," said Steve Hadfield, MD at Ranger Equipment. "The option of crawler models provides solutions for rough terrain and gives rental companies the chance to differentiate their offering to pick up new, more specialised work."
Aichi's 'Global Series' platforms are all-new and encompass CE, ANSI and applicable worldwide standards. New developments will be added to the line over the coming months. Flexible For a limited period, first units into the UK can be acquired on flexible payment terms, including purchase, lease or rental options. The incentive is part of a pilot programme to get units on the ground in the UK, test reaction and gather feedback.
Ranger Equipment specialises in premium access and niche platforms, also distributing Teupen spiderlifts and PB Liftechnik scissors, all known for their exacting quality and pushing boundaries in platform performance.
Steve Hadfield of Ranger is very optimistic that Aichi's added-value engineering will emerge a strong contender for rental investment as the industry climbs out of recession.
He said: "When hire companies start to invest in plant again, we believe they will be extra careful about what they buy and reliability will be key. We anticipate that buyers will be more prepared to consider the higher priced, premium platform because they command higher rental, incur less downtime, and, with excellent residual value, offer low overall cost of ownership."
Aichi booms are well established in the U.S and European rental markets where their reliability is proven in some of the harshest environments, including ship-building. More on Aichi's SP/SR booms SP/SR machines all benefit from Aichi's trademark reliability and ease of maintenance. The upper articulating and lower telescopic boom configuration gives excellent positioning versatility and efficiency. Hydraulics and power cables are housed inside the boom, eliminating the risk of snagging and damage of mechanisms located on the outside of the boom. General smooth running and ease of maintenance is assisted by built-in boom wiper blades, and steel, rather than GRP engine covers which are hard-wearing and easy to repair. Mounted on a swing-out frame for ease of access and maintenance, the Yanmar 4TNV88 diesel engine has a maximum output of 33kw and max torque of 128N-m. The upper control box features separate short-throw joysticks for each function, for better feel and more precise control. It also has a heavy duty finger guard, a new feature on Aichi booms, and full steel cover to protect the controls from paint and dirt. The location of the lower control box gives a good field of vision across the chassis to the basket and booms, which is sometimes hampered on other platforms. The internal boom power track and telescopic hoses are located on a retractable cassette system which can be instantly removed for ease of inspections and maintenance.
Aichi manufactures a full line of articulated booms from 12m up to 25m, as well as 5m to 10m compact scissor lifts.