GLEAMING INSURANCE have launched their specialist scheme for the window cleaning industry to offer window cleaners insurance to all types of businesses.  By visiting www.gleaminginsurance.co.uk you buy the specialist cover online and receive electronic documentation immediately.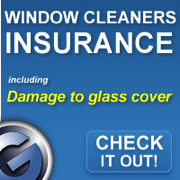 It is so vital for window cleaners to ensure that their insurance policy includes "damage to property worked upon" and "treatment risks" otherwise anything that is damage whilst being cleaned will not be covered.
GLEAMING INSURANCE offer this cover automatically along with other important covers such as "loss of keys", "financial loss", "misuse of customers telephones", "fidelity guarantee"
Premiums are payable by interest free instalments over 12 months and start from £174.90 for a 12 month policy
GLEAMING INSURANCE has been established by Martin Holden and Mark Farrimond who have over 10 years experience dealing with window cleaners and the risks they face – this expertise has allowed them to develop policies that are ready made for all window cleaners whether they be traditional window cleaners, reach and wash window cleaners or high level window cleaners.
To contact GLEAMING INSURANCE please phone   0845 474 0068 or email office@gleaminginsurance.co.uk