Latest News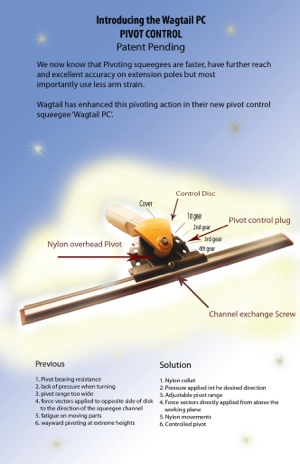 See: Wagtail Blog
The soon to be released Wagtail PC (Pivot Control) places the control disc above the squeegee, allowing for the force vectors of the squeegee to be placed at their most optimal position.
It has adjustable pivot ranges to clean at your desired angle.
The nylon collet reducing the pivot bearing resistance and the controlled pivot can prevent any wayward pivoting at extreme heights.
Pre orders are available for members of the Facebook group 'Wagtail Squeegee Network'.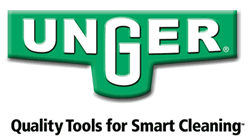 Last week Unger UK announced the launch of the company's first online Store
The Store offers a comprehensive selection of spare parts for Unger professional Window Cleaning range, including water fed poles and traditional tools. The move to sell direct to consumers is another step towards 100% Customer Satisfaction Guarantee initiative, launched by Unger earlier this year.
With Unger products known for their quality and longevity, the Store will enable consumers to extend the lifetime of Unger equipment even further by providing an opportunity to seek competent advice and source parts without delay, direct from the manufacturer.
It is expected that an online presence will help the company to grow sales in other markets, with SmartFit™ Floor Squeegees and the NiftyNabber™ Litter Picking range also on offer.
GLEAMING INSURANCE have launched their specialist scheme for the window cleaning industry to offer window cleaners insurance to all types of businesses.  By visiting www.gleaminginsurance.co.uk you buy the specialist cover online and receive electronic documentation immediately.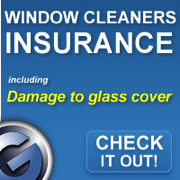 It is so vital for window cleaners to ensure that their insurance policy includes "damage to property worked upon" and "treatment risks" otherwise anything that is damage whilst being cleaned will not be covered.
GLEAMING INSURANCE offer this cover automatically along with other important covers such as "loss of keys", "financial loss", "misuse of customers telephones", "fidelity guarantee"
Premiums are payable by interest free instalments over 12 months and start from £174.90 for a 12 month policy
GLEAMING INSURANCE has been established by Martin Holden and Mark Farrimond who have over 10 years experience dealing with window cleaners and the risks they face – this expertise has allowed them to develop policies that are ready made for all window cleaners whether they be traditional window cleaners, reach and wash window cleaners or high level window cleaners.
To contact GLEAMING INSURANCE please phone   0845 474 0068 or email office@gleaminginsurance.co.uk
"Quality Tools at Affordable Prices."
This is the approach that has helped Bayersan to establish themselves as a major supplier in the European market. Now this combination of quality and affordable prices is helping the company to gain an ever stronger foothold in the UK market.
In recent years their innovative range of traditional tools has become increasingly popular among UK professional window cleaners. Particularly successful have been the Bayersan branded soft rubbers which are now widely used and available through various stockists. This same motto of quality at affordable prices has been applied to the development of a new range of water fed pole equipment which will be revealed to the industry at the Windex exhibition in March this year.
Of particular interest will be the launch of a new, very affordable range of water fed poles – the PREMIUM range and the IMPRESSOR range. Since their last exhibition at the Cleaning Show last year, Bayersan have also been busy expanding their water fed pole brush range. Now all their poles are available with a choice of square, sill or lightweight gooseneck brushes. It will also be very interesting to see what Bayersan have in store when they unveil their new RO Trolley System.
The message from Bayersan is clear;
"We may be relatively new on the scene in the UK, but the quality of our tools speak for themselves. We are here to stay."
Aichi offers wheeled or tracked chassis on new 'Global Series' 12m and 14m self-propelled boom lifts.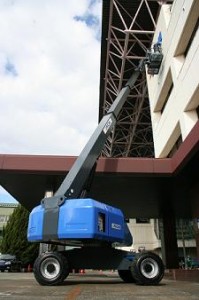 New 'Global Series' booms with wheels
Aichi's new SP/SR14CJ and SP/SR12C 'Global Series' booms combine rugged, high specification engineering, versatile working range and compact design which raise the bar in the UK market for 12m/14m working height articulated booms.
The first boom lifts to be launched under Aichi's 'Global Series', the new platforms come in wheeled versions (SP models) as well as with Aichi's more familiar tracked chassis (SR models). They are available in the UK from Aichi dealer, Ranger Equipment, the Chesterfield-based specialist in premium access.
With 13.6m working height, the larger SP/SR14CJ models feature a 3-stage boom: an articulating upper boom with 1.75m fly jib (-70/+60 degrees articulation range), plus two-section telescoping lower boom. This gives a more dynamic working envelope compared to other boom lifts in their class, including the longest horizontal outreach – 12.7m. The platform folds down to transport-friendly proportions, with a stowed height of 2.44m and stowed length of 7.55m. Gross vehicle weight is 8510kg.
The smaller SP/SR12C models offer 11.7m w/h and 10.9m maximum outreach (although no fly-boom). Stowed height is 1.73m and stowed length 7.02m. Gross vehicle weight is 7675kg. Ground clearance on all SP/SR models is 335mm, and capacity is 250kg (for 1.82m basket) or 227kg (2.4m basket).
"The availability of wheeled models will suit the UK market's preference for this type of chassis," said Steve Hadfield, MD at Ranger Equipment. "The option of crawler models provides solutions for rough terrain and gives rental companies the chance to differentiate their offering to pick up new, more specialised work."
Aichi's 'Global Series' platforms are all-new and encompass CE, ANSI and applicable worldwide standards. New developments will be added to the line over the coming months. Flexible For a limited period, first units into the UK can be acquired on flexible payment terms, including purchase, lease or rental options. The incentive is part of a pilot programme to get units on the ground in the UK, test reaction and gather feedback.
Ranger Equipment specialises in premium access and niche platforms, also distributing Teupen spiderlifts and PB Liftechnik scissors, all known for their exacting quality and pushing boundaries in platform performance.
Steve Hadfield of Ranger is very optimistic that Aichi's added-value engineering will emerge a strong contender for rental investment as the industry climbs out of recession.
He said: "When hire companies start to invest in plant again, we believe they will be extra careful about what they buy and reliability will be key. We anticipate that buyers will be more prepared to consider the higher priced, premium platform because they command higher rental, incur less downtime, and, with excellent residual value, offer low overall cost of ownership."
Aichi booms are well established in the U.S and European rental markets where their reliability is proven in some of the harshest environments, including ship-building. More on Aichi's SP/SR booms SP/SR machines all benefit from Aichi's trademark reliability and ease of maintenance. The upper articulating and lower telescopic boom configuration gives excellent positioning versatility and efficiency. Hydraulics and power cables are housed inside the boom, eliminating the risk of snagging and damage of mechanisms located on the outside of the boom. General smooth running and ease of maintenance is assisted by built-in boom wiper blades, and steel, rather than GRP engine covers which are hard-wearing and easy to repair. Mounted on a swing-out frame for ease of access and maintenance, the Yanmar 4TNV88 diesel engine has a maximum output of 33kw and max torque of 128N-m. The upper control box features separate short-throw joysticks for each function, for better feel and more precise control. It also has a heavy duty finger guard, a new feature on Aichi booms, and full steel cover to protect the controls from paint and dirt. The location of the lower control box gives a good field of vision across the chassis to the basket and booms, which is sometimes hampered on other platforms. The internal boom power track and telescopic hoses are located on a retractable cassette system which can be instantly removed for ease of inspections and maintenance.
Aichi manufactures a full line of articulated booms from 12m up to 25m, as well as 5m to 10m compact scissor lifts.
Terry Burrows completed the three windows in 9.14 seconds
A martial arts specialist used black belt moves to help him break his own record as the world's fastest window cleaner. See http://news.bbc.co.uk/1/hi/england/8299917.stmfor video footage.
Terry "Turbo" Burrows, 54, left three windows gleaming in just 9.14 seconds at the 2009 window cleaning competition in Blackpool, Lancashire.
Mr Burrows from Romford, Essex, a black belt in karate, said his success was due "to moving the body in sequence".
Andrew Lee, of the Federation of Window Cleaners, confirmed the record.
He said: "He left just two water marks on them, so we had to add a second to his original time of 8.14 seconds, to make 9.14 seconds – a brilliant achievement."
'Too fast'
Mr Burrows said: "I clean the windows in just 16 moves, and it's pretty intense," he said.
He has been cleaning windows for the past 30 years and has taken part in competitions across the country.
Competitors have to clean three 4ft (1.2m) high windows in the quickest time possible.
The regulation surrounding their tools is strict – they are only allowed to have a soap applicator and a "squeegee", a special wiper that removes the soap.
| | |
| --- | --- |
| | I was just too fast for them and I kept on winning and taking home the cash, they call me Terry 'Turbo' Burrows. |
He set his last record of 9.24 seconds in 2005, which stayed unbroken until he beat it earlier in front of crowds of people by Blackpool Zoo.
"Many people try to break my record, but they're just not fast enough. Some of them are still trying to clean the windows after 10 seconds, well I'm finished by then," Mr Burrows said.
He said he had now opted out of one of the UK's main window cleaning competitions, at the NEC in Birmingham.
"I was just too fast for them and I kept on winning and taking home the cash, they call me Terry Turbo Burrows.
"I bowed out so people would still keep on competing so they had a chance of winning."
The father-of-two has appeared on Record Breakers.
In the early 1990s, he and a friend, aptly named John McLean, cleaned the inside of camera screens for Carlton TV between programmes.
Whether you use traditional methods or water fed pole technology, here you will find lots of useful advice and resources that will help you as a window cleaner to develop a successful window cleaning business.